anti-bacterial coating
X-BAC®
For doors that requires extra precaution and attention when it comes to optimal hygiene, d line offers a special anti-bacterial coating on our stainless steel products.
X-BAC® is a patented additive system that effectively eliminates a wide range of bacteria, viruses and fungi within 2-3 hours, with already great effects on the reduction of bacteria after 30 minutes. The coating has been tested against a long list of microorganisms and has a proven track record of maintaining extremely high levels of hygiene over a longer time period that exceeds normal industrial product lifecycles.
Due to the incubation phase from contact to elimination, it is still necessary to ensure continuous maintenance and cleaning of your products.
X-BAC® is also available in four RAL finishes, as part of our d line standard colour range. Choose between Black, Dusty Grey, Telegray and White. Each has been curated as a fresh, modern update for d line, and each speaks perfectly to our timeless, minimalist aesthetic.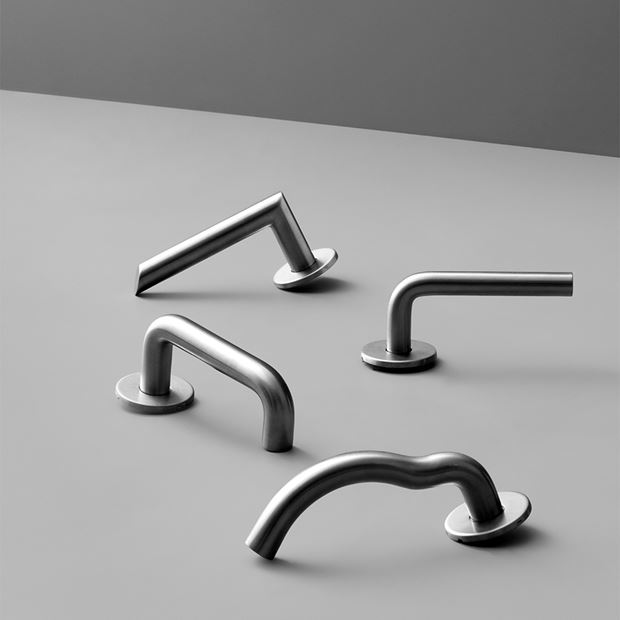 FAQ
What is X-BAC coating?
X-BAC is the registered trademark for a surface treatment carried out with the bactericidal 2component polyurethane GJC Antibac 1001, which complies with the extremely stringent specifications described in the data sheet.
How does X-BAC coating work?
The coating's antibacterial effect is based on additives that generate metal ions. The ions affect the bacteria's metabolism so that they die. The ions do not affect human cells, so the coating is completely harmless to people and animals.
Does X-BAC only work on certain bacteria?
No. X-BAC works generally on a wide range of microorganisms such as bacteria, viruses and fungi. It is thus more accurate to describe the affect as antimicrobial.
Can X-BAC combat the bacteria Clostridium difficile?
This bacteria is special as it is spore-forming. While X-BAC can break down the bacteria itself, its spores are extremely difficult to tackle – even with disinfectants and sanitisers.
How long does the antimicrobial effect last?
The antimicrobial effect is retained far beyond the lifetime of ordinary industrial products. The coating has been tested over a 5-year period, but theoretical calculations show that the effect would remain for several thousand years.
How is X-BAC tested?
There is only one relevant standardised test for antimicrobial surfaces, JIS Z 2801 (ISO22196). The coating has been tested in accordance with this standard at the independent Fraunhofer Institute in Germany. The test documents that X-BAC far exceeds the test's requirements.
Is X-BAC approved by health authorities?
The additives in X-BAC have been approved by the US health authorities, the FDA. They are approved for use in connection with food, and they also comply with the EU's Toy Safety Directive.
How quickly does X-BAC work?
Tests at the Department of Infection Control at Rigshospitalet, Copenhagen showed a significant bacterial reduction after just 15 minutes. Short-term tests on E. coli bacteria also show that X-BAC reduced the bacteria 18 times faster than JIS Z 2801 standard requirements.
Does X-BAC contain nano silver?
The coating contains neither nano silver nor any other nanomaterials.
Can the coating release harmful substances into the environment?
The coating's antimicrobial additives are bound into the lacquer and cannot be released into the surrounding environment. They are also approved for use in connection with food, are approved by the FDA in the US and comply with the EU's Toy Safety Directive.
How durable is X-BAC coating?
The coating's properties exceed most typical construction plastic materials in regard to hardness, wear resistance, UV and chemical resistance.
What happens if the coating becomes worn down?
The coating is 15-25 layers thick and is wear tested. The durability corresponds to many years of daily use.
How does the coating affect the surface's appearance?
X-BAC coating can be applied in a transparent version as well as in varying degrees of glossiness so that it does not affect the original appearance of the product. The coating can also be applied instead of a traditional lacquer however, in which case the colour and gloss can be specified by the customer.