Sometimes good
as new is better
The industry's first circular system that will prolong the life of products up to 100 years.
d line take back original products to be Re-handled. We fix, replace and brush them to work good as new. With each Re-handle®, we save the environment up to 90% CO2 emission.
Low quality is a waste of resources. We challenge you to Re-handle the same product up to four times. With each Re-handle the 20-year product warranty period is renewed, securing 100 years of use.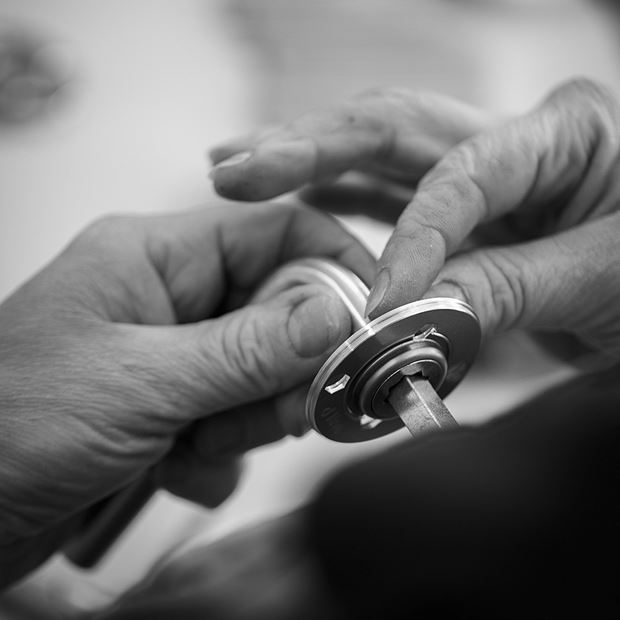 We know that every new product put into the world has severe CO2 impacts. By choosing to Re-handle our products instead of producing new, you will dramatically reduce the carbon footprint between 54-91%, depending on the product.
We know this, because we have documented our products' complete Global Warming Potential (CO2 emission) across the entire life cycle, based on fully documented, internationally recognized Environmental Product Declarations (EPDs executed and verified by third party).
We want to challenge you to make the highly enduring choice.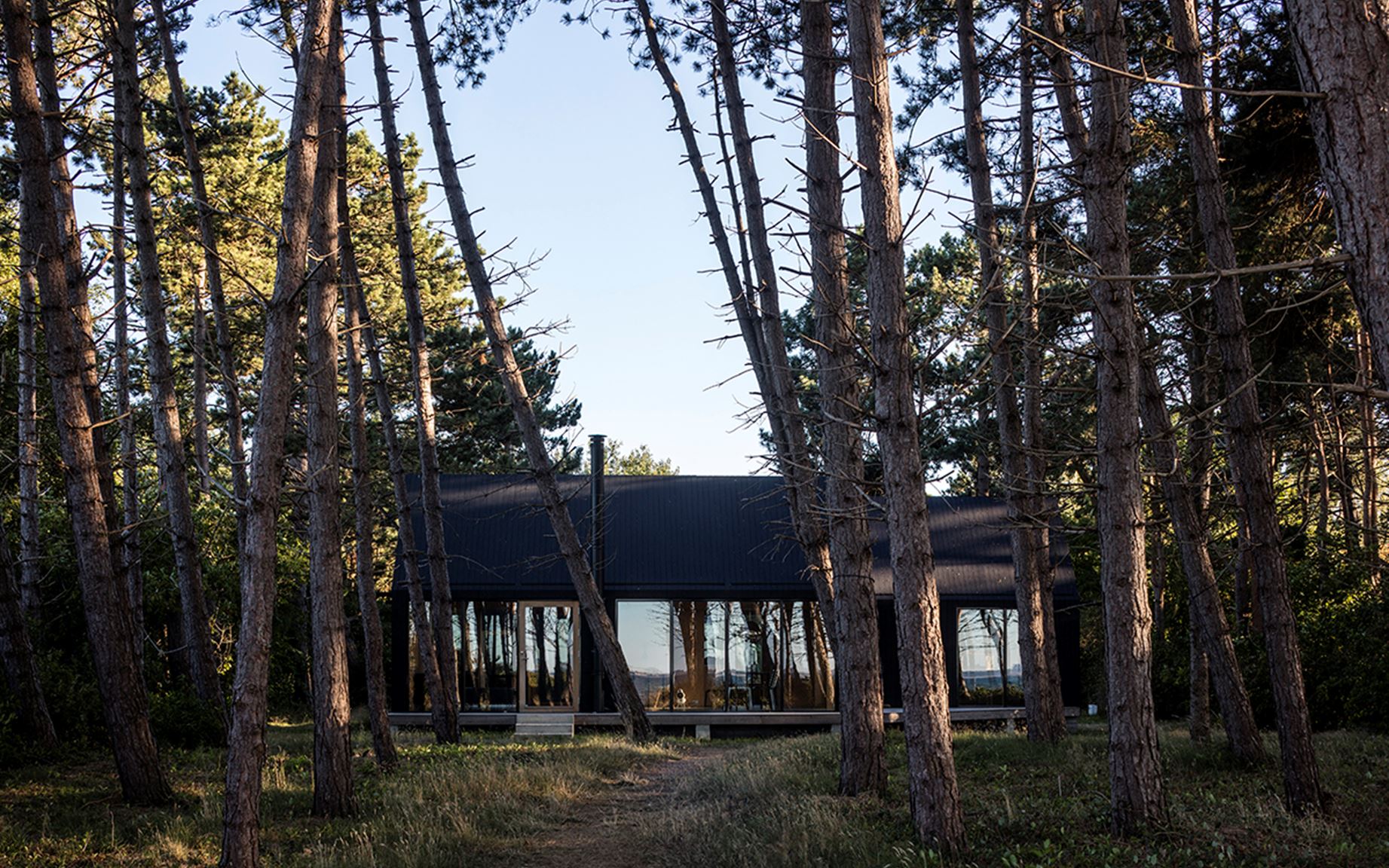 Long before global warming became an issue of concern, d line made a promise that we would create things that are timeless in their design and enduring in their strength, so that they wouldn't need to be bought for a purpose more than once.
It is this uncompromising approach to design and our complete supply chain control, that makes Re-handle the most revolutionary circular system in our operating industry.
Interested in our Re-handle® concept? Book a webinar for you and your colleagues (minimum 5 attendants).
We'll take you through the concept of Re-handle, as well as the general understanding and work with Environmental Product Declarations. Our webinars take between 30-45 minutes depending on your requirements.
Our products must have transparency with regards to their complete global warming potential.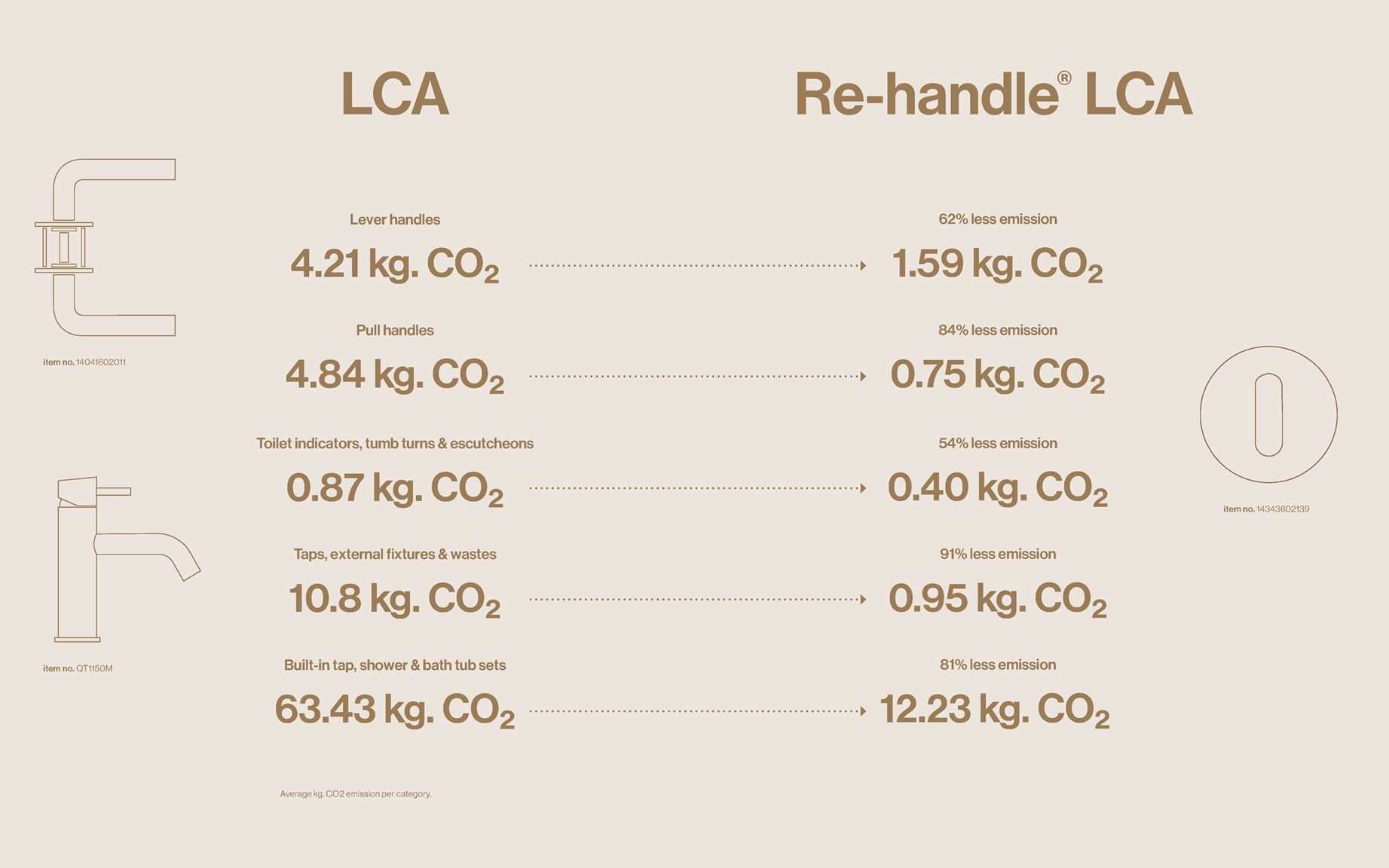 In this waste-aware environment, Architects and Specifiers look for solutions that are fully documented and thought within their built environment. Now more than ever, we see a movement towards data-driven and future-thinking decision making.
Whilst EPDs are a powerful tool for taking into account energy- and resource consumption as well as environmental impacts over the entire life cycle, it requires that a product is fully declared across the entire LCA.
Today, it is only mandatory to declare the product in its production phase (A1-A3), thus losing out on vital information for decision makers.
We want to challenge the industry for undercutting decision makers with correct data and have for that reason decided to fully disclose the complete global warming potential (GWP) of more than 40% of our portfolio. This means full declaration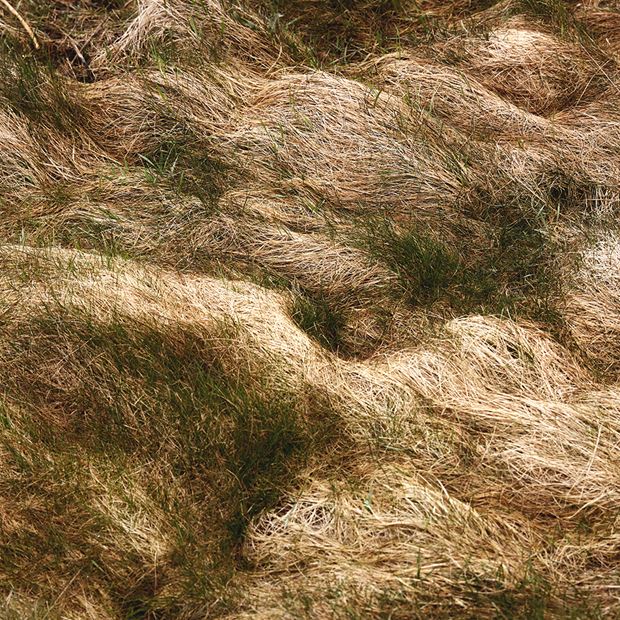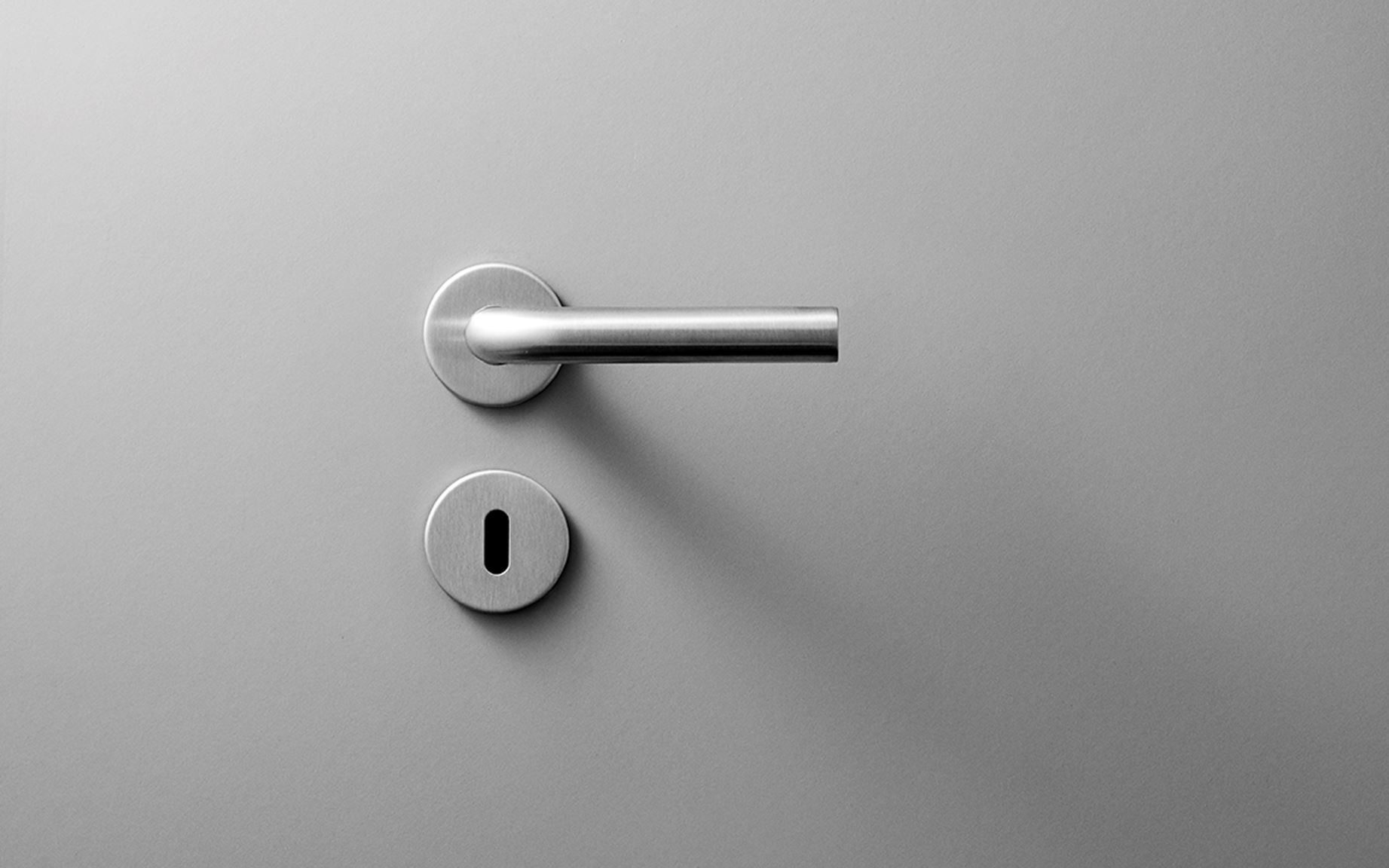 How to read an EPD
We recommend that you asses a product's performance based on the values in the Global Warming Potential (GWP) of 1 kg product that is equivalent to 1 kg CO2 emission into the atmosphere. Factoring in the total product weight is therefore crucial to understand a product's complete GWP. The more weight of the product, the higher the global warming potential (or CO2 emission) is.
The GWP in section A1 to A3 is directly related to the CO2 emissions in the conception of a product (production phase). Section B5 Refurbishment is, on the contrary, the values of restoring that same product, to keep it in its life cycle. By comparing these two figures, you can calculate exactly what impact a Re-handled product has, compared to producing new.
Why comparing EPD's across alternative goods can be misleading
Although the perfect way to make sustainable choices is to compare EPD's across alternative goods, there are current challenges with the way we work with EPD's today, which hinders Architects and Specifiers to make fully informed decisions.
Firstly, the declaration only declares a products' potential impact and does not assess whether this high or low, hence a comparison of alternative goods is required.
Secondly, the standard does not require full declaration of a products' impact, therefore we can never compare EPD's across goods, unless both are fully declared.
Thirdly, the GWP is influenced by the product weight. The more weight, the higher the global warming potential of a product. By choosing to only declare the product production phase (A1-A3), a lower quality product with short life span will most likely have the lowest environmental impact.
Consequently, EPDs are missing one vital information and that is expected life span. We prefer solid stainless steel AISI 316, because of its endurance and recyclability. Heavy weight increases the global warming potential, and so we need to include expected life span and Re-handled possibilities.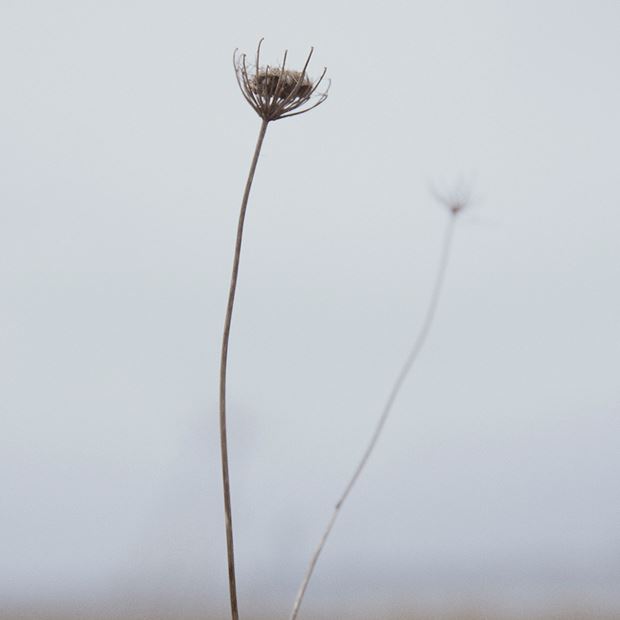 We offer 250 products to be Re-handled, and 40% of our portfolio is fully CO2 declared.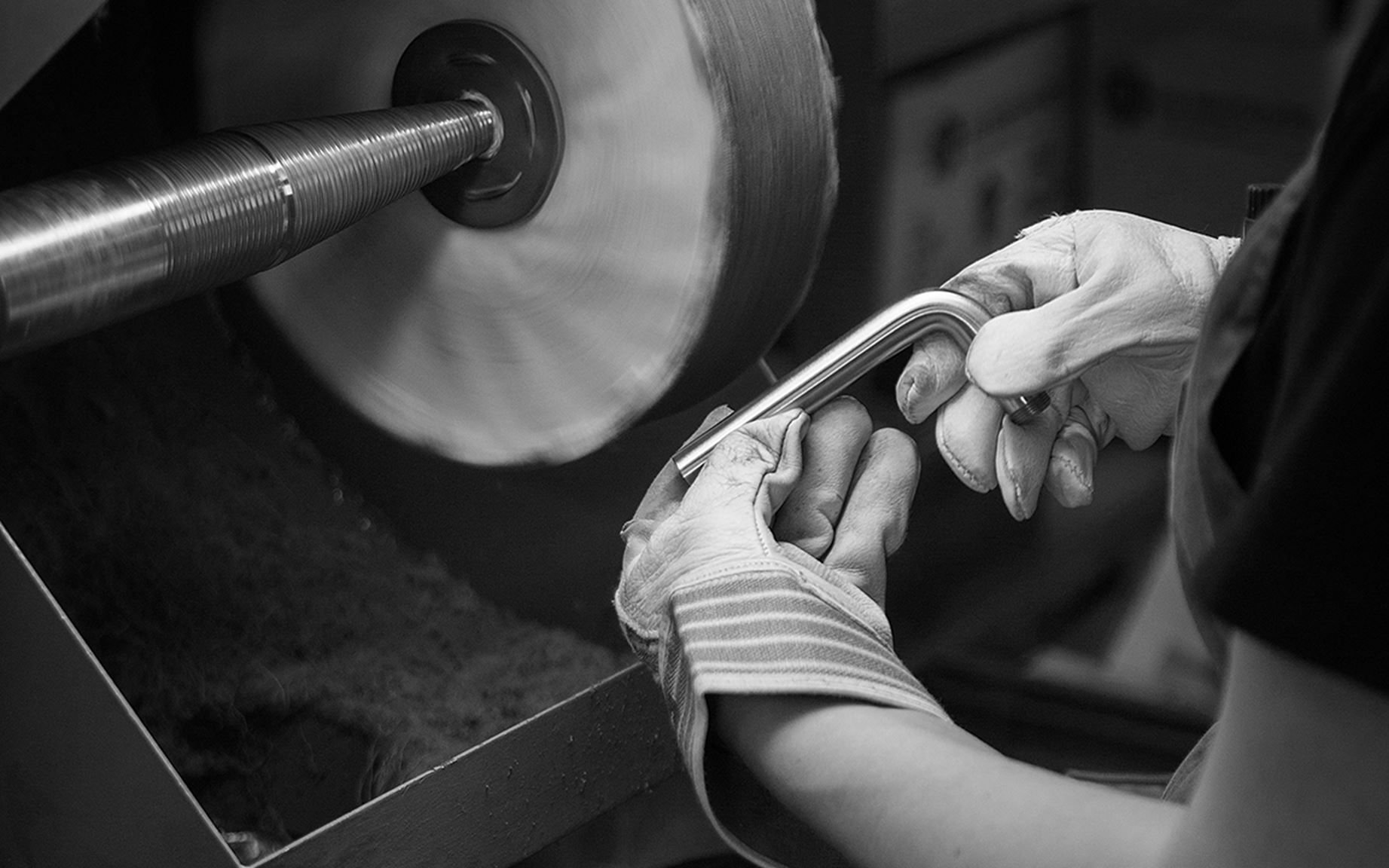 In our product:
- 20-year product warranty, renewed at every Re-handle.
- EPDs with full declaration on 40% of our portfolio.
- Re-handle possibility on 250 items.
- Reduce the GWP between 54-91% with each Re-handle.
- 100% recyclable AISI 316 stainless steel.
- Recycled and recyclable packaging.
In our production:
- In-house production facilities (complete supply chain control).
- Local sourcing.
- All waste is carefully sorted and 100% recycled.
- 0.3% production failures.
- ISO 14001 certified.
At d line obtaining EPD's and ISO 14001 certifications is a means and not the end of a journey. We think that sustainability is a living thing, so we constantly strive to innovate across design, engineering and technology, seeing our offerings not so much as final results but as continuing evolutions.
Read more about this in our Environmental Social Governance report.
Will my Re-handle product look like new? We strive to get your product looking as good as new, but as with any product that has lived for decades, some wear and tear will always be visible. We guarantee that your product will work perfectly for an additional 20 years, but it will not necessarily look just as perfect - that is the beauty of Re-handle.
Can you Re-handle products with a coating applied? No, we cannot Re-handle a product with Powder- or PVD finishes applied. We can, however, Re-handle satin and polished steel finishes, along with brass variants.
How long will it take to Re-handle a product? We need around 8 weeks from arrival until your re-handled products are ready to be returned. For larger projects or Re-handle orders, we can plan sections one at a time, to keep the building in operation.
How do I ship and pack a product to be Re-handled? When a Re-handle order is placed, we will ship the necessary boxes and packing material to you or the building site. You will receive a detailed overview of how to pack the items, and once done, a pick-up can be arranged. Watch the Re-handle return guide here.
When do you recommend that I Re-handle a product? We recommend that you Re-handle your products every 20th year. However, there may be cases when spaces are being refinished, refurbished or changed, where it makes sense to Re-handle your d line items even though the warranty period is still valid.
What type of volumes do you require for a Re-handle order? We will Re-handle any amount of items that are listed with the Re-handle possibility. We will, however, challenge you on the wish to re-handle low quantities of small items. It is possible, but it is not necessarily better for the environment.
I bought this item long ago – can it be Re-handled? Any item on the Re-handle list can be Re-handled, as long as it is not more than 20 years old. Items older than this can be reviewed case-by-case if they are applicable for Re-handle.
I wish to Re-handle an item that is not on the Re-handle list? You are always welcome to contact us for an evaluation of your product.