Our commitment
to sustainability
We place enormous value on our products' reputation for standing the test of time, because we believe that anything that's less than superb in its design and craftsmanship is simply a waste – not just of money but also of resources.
A lifetime investment
Long before sustainability became an issue of concern, d line made a promise that we would create things that are timeless in their design and enduring in their strength, so that they wouldn't need to be bought for a purpose more than once. It was based on unfussy, minimalist design that would never date. And it was based on the use of raw, resilient, acid-proof, non-corrosive AISI 316, as the strongest, most hard wearing steel for these types of purposes.
Today that commitment to sustainability exists as a 20-year guarantee on our products. This commitment extends to responsible sourcing of our steel, to low-emission hand assembly and to a lean factory that never produces more than what is needed.
100% recyclable taps and shower fixtures
Our latest addition to the d line portfolio is our Qtoo collection of taps and shower fixtures, which are manufactured in 100% recyclable stainless steel.
We have always prioritised the use of stainless steel is in our production - but we do so even more, when it comes to our taps and shower fixtures due to the lower amount of heavy metals it contains, compared to other chrome products. Simultaneously, in the production of stainless steel no chemicals are used, nor any contaminating surface treatments.
Our aim for 2023 is to investigate how we can apply that same thinking across other product categories and collections within our portfolio.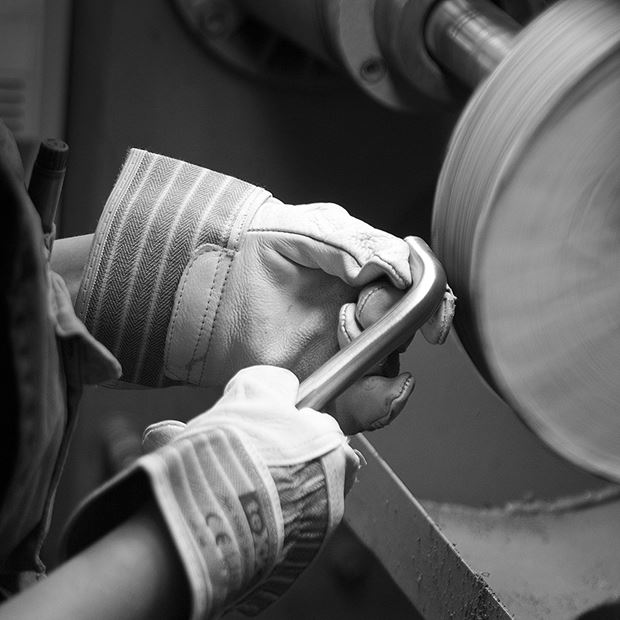 Sourcing, processing
and recycling
How d line acquires our steel has been carefully thought through, from sourcing to processing, right through to scraps.
We purchase our steel locally in Europe, because it conforms with our high quality standards and is in close proximity to our production facility. We buy only steel for the need we have,  and keep just enough in reserve to react quickly if an urgent order comes in. This is not only because we don't want to be responsible for mining and producing steel that's not needed, it's also to avoid the emissions that powering a large-scale storage facility demands.
Our waste minimisation goals include a keen focus on getting our production absolutely perfect each time. This focus means that these types of scraps only account for about 0.3 per cent or our entire production – and we're working to reduce even this small number all the time.
When we have used the steel for the purpose we bought it for, we ensure nothing is thrown away. All our metals scraps are carefully sorted and 100 per cent recycled, as a way to repurpose, reuse and aviod unnessecary waste.
Handled with care
After our pieces are carefully crafted, they are packed and shipped in cardboard boxes made from partly recycled material. We purchase our boxes locally, not only from a subsidiarity principle to avoid unnecessary transport, but also to support our local communities and businesses.
Our packaging contains the following composition: ¼ kraftliner and ¾ testliner.
- Kraftliner: 80% cellulose (natural raw material) and 20% (recycled waste paper)
- Testliner: 20% cellulose (natural raw material) and 80% (recycled waste paper)


Our aim for 2023 is to innovate even further within the packaging of our products, as we believe that optimising our solutions sustainably requires commitment across the entire supply chain.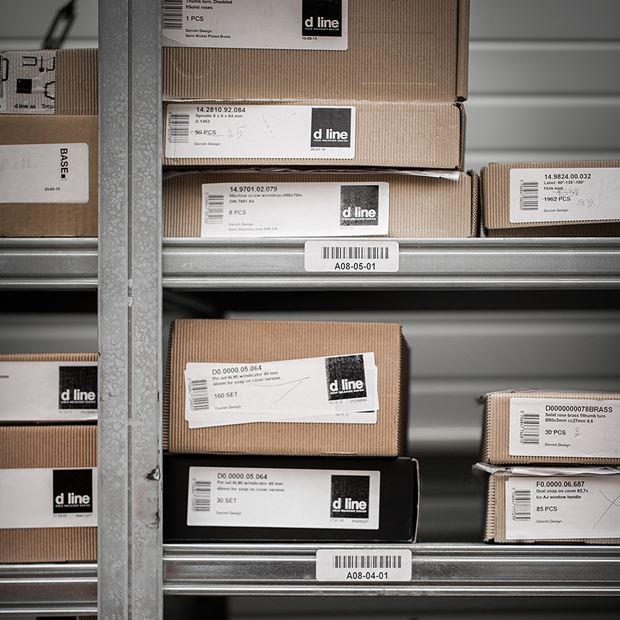 Sustainability goals
by end of 2023
We think that sustainability is a living thing, so we constantly strive to innovate across design, engineering and technology, seeing our offerings not so much as final results but as continuing evolutions. By the end of 2023 we are committed to the following goals in d line:
- EPD certifications on our top product categories.
- ISO 14001 certifications in our production facilities.
- Continue to innovate within sustainable packaging and raw material.